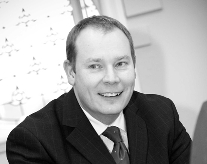 Director Team
The Director team and their Associates pool a vast array of recruitment and HR knowledge. Cork Griffiths is able to serve all your recruitment needs, whether UK or international and, together with some carefully selected strategic partners, can also help with your long term HR strategy to make your business grow and flourish.
Paul Griffiths  Managing Director and Executive Recruitment Specialist 
    Paul started his career as an accountant before moving into recruitment in 1989. He became Chartered Institute of Personnel & Development qualified in 1998 and a fellow in 2005. He has always worked with a mix of owner managed businesses and large corporates (including many with overseas parents) and is responsible for leading our expertise in recruitment within the fields of operations, finance, supply chain, HR, production, general management and sales and marketing. He also helps clients to carry out MBO's, MBI's and he runs our national MBI register

Sarah Ashworth Business Development Director
Sarah is the power behind our marketing effort – as our business development specialist she helps us to identify new opportunities, markets, companies and candidates so we remain proactive and competitive. Sarah is a real people person and is responsible for running all our client events which we often host in conjunction with other specialists such as accountants, solicitors and employment law specialists. She is also the key driver in continually striving to improve our service delivery, customer satisfaction levels, internal systems and operational procedures.
Along with our Recruitment team, we also operate using a number of key Associates including a Consultant HR Director, a psychometric testing specialist, a Researcher and an Outplacement and career management specialist/redundancy counsellor.  
If you would like to speak to one of the team please contact us